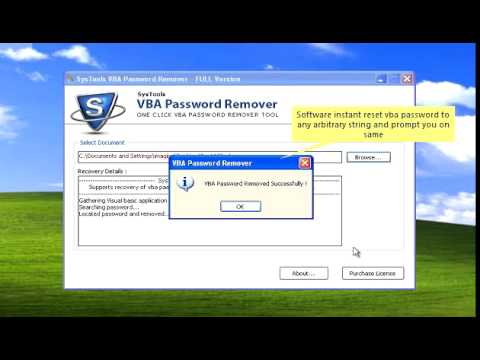 Are you also looking for a solution to remove passwords from Microsoft word documents? Yes, Then your search will end here because we are going to discuss about different methods to remove VBA passwords from MS Word. We will mention manual and automated solutions to remove word VBA password.
Microsoft Word is one of the best and popular office tools used worldwide. It is used to create, edit, and format written documents in the workplace, at school and home.

For Example: Personal or formal business letters, resumes, cover-sheets etc. It has an advanced level of knowledge could lead to job opportunities since MS Word is used a lot in the workplace. Furthermore, here are mentioned some reasons to remove password from Microsoft Word document. So, let's have a look once.
Reasons to Unlock Microsoft Word Password Protected Document
A password-protected MS Word document is a document that you need to put in the password in order to open and modify. You may select Read-only to view the document, but you will still need the password to unlock it and make any changes. So, here I am going to show you an easy way How to Unlock MS Word Password Protected file even if you do not know the password to open it first.
Before I start, here is mentioned how we normally unlock MS Word password protected file.
Method 1: How to Remove Password from Microsoft Word Document File
Open a new Microsoft Word document
Then, open VBA or press Alt + F11 keys
Now, click on Insert and select a Module
Enter the following code in the general Windows – press F5 to remove password from Microsoft Word
Now, select the Word document to unlock – click on open
After that, you will get a small pop up box in few minutes. The password from the encrypted word file has been recovered successfully
Click on OK and close the pop up box
Now, the encrypted document will get opened
Press on file tab – choose the option of protected document
Now, select the encrypt with password option to remove password from Microsoft word
Just clear the password from the text box and click on OK button to remove the protected password from the .doc file.
So, after that you can open the document without any password to reset password in Microsoft word.
These are the steps of the manual method to remove word VBA password. But it has some limitation which are discussed below.
Limitations of the Manual Approach
To remove VBA password from MS Word, the manual method is not considered as the perfect option because these manual approaches always have some limitations associated with them. These are:
The manual approach is lengthy and confusing also.
Non-technical users can not not perform
It is time-consuming
Note: This method only works when the password is within 7 characters only, if it exceeds than 7 characters. Then, try the second solution and save your time.
Method 2: Automated Solution to Remove Password from Microsoft Word Document
As already discussed above, all these disadvantages of the manual approach, users are advised for automated software to remove VBA password from MS Word such as SysTools Excel VBA Password Remover. According to the professionals, it is one of the best solution to unlock Microsoft word password protected document . Furthermore, this utility easily eliminates the old password and generates a new VBA password for the document.
The tool offers some of the unique services that makes it different from other available products are:
It easily removes password from individual VBA document
The software supports all MS office files such as .doc, .dot, .xls,.xla &.mbd file type
Recover the password of any length and type of document
Application remove word VBA password and generates a newer VBA password
Also, it is compatible with all Windows versions and Microsoft Office (32 bit & 64 bit).
Final Words
Nowadays, Microsoft Word is one of the most prominently used office tools. It used to added or create documents, workplaces, school work or other. Also, it is safely protected with a strong password but sometimes it becomes very difficult to remember all passwords of each Microsoft Word document. Thus, it is necessary to know How to Remove Password from Microsoft Word Document. In the above, section, we have discussed a manual solution to unlock MS Word password protected file. Along with this, we have suggested an alternate solution i.e., VBA Password Remover that helps to unlock MS Word password protected file without any fear of data loss.