How to Remove Password from Microsoft Word Document?
Are you also looking for a solution to remove passwords from Microsoft Word documents? Yes, Then your search will end here because we are going to discuss different methods to remove password protection from Word file. We will mention manual and automated solutions to remove the word VBA password.
Microsoft Word is one of the best and most popular office tools used worldwide. It is used to create, edit, and format written documents in the workplace, at school, and at home.
For example, Personal or formal business letters, resumes, cover sheets, etc. It has an advanced level of knowledge that could lead to job opportunities since MS Word is used a lot in the workplace. Furthermore, here are some reasons to remove password from Word VBA project documents: So, let's have a look once.
Easy Steps to Remove Password from Multiple VBA 
First, Download & Install VBA Password Breaker Tool.
Click on the "Add File/Folder" to choose the VBA files.
Choose the VBA file, and Select the Open tab.
4: Click the Reset or Remove button Option.
Reasons to Remove Password from Microsoft Word Document
A password-protected MS Word document is a document that you need to put in the password in order to open and modify. You may select Read-only to view the document, but you will still need the password to remove it and make any changes. So, here I am going to show you an easy way to remove password from Word VBA project documents even if you do not know the password to open them first.
Before I start, here is how we normally remove MS Word password-protected files:
Remove Password Protection from Word File Manually
Open a new Microsoft Word document
Then, open VBA or press Alt + F11 keys
Now, click on Insert and select a Module
Enter the following code in the general Windows – press F5 to remove the password from Microsoft Word
Now, select the Word document and click on open
After that, you will get a small pop-up box in a few minutes. The password from the encrypted word file has been recovered successfully
Click on OK and close the pop-up box
Now, the encrypted document will get opened
Press on the file tab – choose the option of a protected document
Now, select the encrypt with password option to remove the password from Microsoft word
Just clear the password from the text box and click on the OK button to remove the protected password from the .doc file.
So, after that, you can open the document without any password to reset the password in Microsoft word.
These are the steps of the manual method to remove the word VBA password. But it has some limitations which is discussed below.
Limitations of the Manual Approach
To remove the VBA password from MS Word, the manual method is not considered the perfect option because these manual approaches always have some limitations associated with them. These are:
The manual approach is also lengthy and confusing.

Non-technical users can not perform

It is time-consuming
Note: This method only works when the password is within 7 characters; if it exceeds 7 characters, Then, try the second solution and save your time.
Automatic Solution to Remove Password from Microsoft Word Document
As already discussed above, with all these disadvantages of the manual approach, users are advised to use automated software to remove or unlock VBA password in Excel without changing any original formatting.
According to professionals, it is one of the best solutions to remove Microsoft Word password-protected documents. Furthermore, this utility easily eliminates the old password and generates a new VBA password for the document. The tool offers some unique services that make it different from other available products, including:
It easily removes passwords from individual VBA documents.

The software supports all MS Office file types such as.doc,.dot,.xls,.xla, and.mbd.

Bypass access VBA password for any length and type of document.

Application removes the word VBA password and generates a newer VBA password.

Also, it is compatible with all Windows versions and Microsoft Office (32-bit and 64-bit).
Also Read: How to Crack VBA Excel Password?
Detailed Process to Remove Password from Microsoft Word Document
Download Launch on your machine.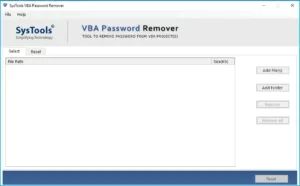 There are two ways to add VBA files to this tool.
Add File: If you have a special VBA file that is password protected, you can select this option.
Add Folder: Select this option if you want to add an entire folder for removing or resetting passwords for VBA files.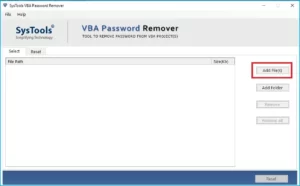 After adding files, you can easily view all files in the software preview. Also, if you added the wrong file, you can easily remove it using the "Remove All" option.

After adding all the files, select "Restore" and "Remove" to remove the VBA password.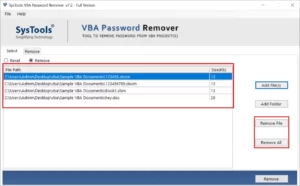 Select the Remove radio button to remove password protection from Word file from VBA files.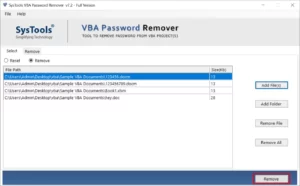 Click the Remove button when you are ready to remove the password from the VBA file.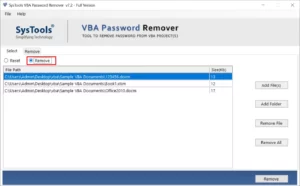 After clicking the "Remove" button, the tool will start removing the password from the VBA file. Click OK when you are done.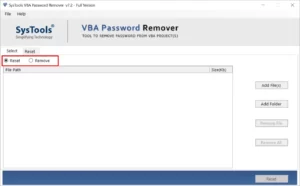 Finally, the software will display a complete report, including root information and status.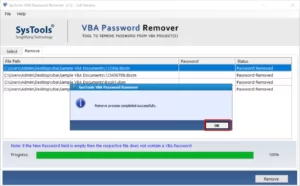 Final Words
Nowadays, Microsoft Word is one of the most prominently used office tools. It is used to add or create documents, workplaces, school work, or others. Also, it is safely protected with a strong password, but sometimes it becomes very difficult to remember the passwords for each Microsoft Word document.
Thus, it is necessary to know How to remove password from Microsoft Word document. In the above section, we have discussed a manual solution to remove MS Word password-protected file. Along with this, we have suggested an alternate solution that helps remove password from Word VBA project documents without fear of data loss.