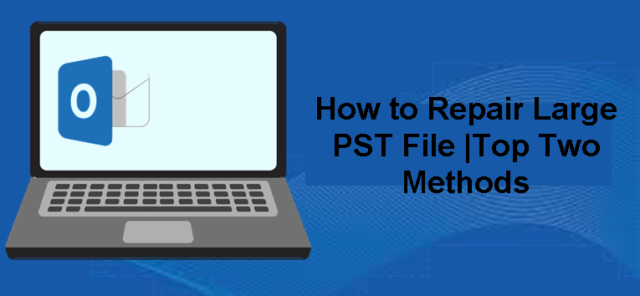 Are you facing Outlook corruption but with the large PST file you are not able to use the manual method to repair Outlook PST file? So it is time to rejoice. Because here in this blog we are going to discuss the best solution to repair a large PST file and also how one can reduce the large PST file.
Well , we kwon that MS Outlook is one of the most popular email client that comes with effective and user-oriented features. Now, most of the users use this email client like the daily driver to manage their daily emails, events, and official tasks. But after a certain period of time, most Outlook users face the PST corruption issue. And the main reason behind the PST is corruption is oversized PST which totally our flaws.
If we talk about the PST, then it is a data storage file that stores all the data of Outlook. And if anything happens with it you will encounter a corruption error. Now, to repair the corruption Outlook provides an inbox repair tool that is also known as Scanpst.exe. But it is not the perfect solution for all situation like is not capable to repair large PST file.
Anyway, here we are going to discuss all that you need to know about the oversized Outlook PST files and how to reduce their size. But before proceeding with the solution let's discuss the reasons for the oversize PST file.
Addition Tip
If your Outlook is oversized and due to that you are not able to use Scanpst.exe to repair the Outlook PST file, you can try the automated tool. This tool can easily repair PST files without any size limitations.

Reasons For Oversized Outlook PST File
Mainly there are two reasons for oversized PST file
Duplicate Outlook Items- Duplicate Outlook items such as duplicate emails, contacts, calendar data, and other items are major reasons for oversized Outlook PST.
Unesseary Outlook Attachments – If you have lots of attachments in your Outlook, then it will also consume the space Outlook data file.
How to Overcome from Oversized PST File?
Now, we know the reasons for the oversized Outlook File so let's reduce the size of the PST files s you can easily repair large PST file corruption issue.
#Workaround 1: Compact Now PST File
This is an inbuilt utility of Microsoft Outlook which is a powerful way to reduce the oversized Outlook mailbox.
1. First, open Outlook program.
2. Select the File tab and click on the Info option.
3. Click on the Account Settings option and then Account Settings again.
4. Now, choose the Data File option then Settings >> select the desired file>> press Compact Now option.
5. After all settings, click on the OK button to end the procedure.
#Workaround 2: Reduce Oversize Outlook Mailbox Via Clean Up Tool
By using Outlook inbuilt Clean Up tool, you can trim the size of your mailbox
So, to reduce the oversized PST file follow the steps mentioned below:
1. Open Microsoft Outlook on your Windows machine.
2. Then select the Tool option and click on the Mailbox cleanup option
3. Here you can view various options like Emptied delete items, Find items longer than view mailbox size, View contract size, View deleted item size, and Empty conflict you can choose any option as per your need to reduce the oversized PST files.
#Workaround 3: Extract Large Attachments
Large attachments in Outlook have also consumed the space of Outlook data files. So, it is very important to extract your all attachments and after that simply delete all the attachments from Outlook.
To extract attachments you can simply save the attachments one by one. Or you can try Outlook Attachment Extractor tool to save all the attachments at once.

#Workaround 4:Delete Duplicate Emails
As we said above that duplicate Outlook items is one of the major reason for oversized so duplicate becoming a huddle to repair large PST file, then simply delete duplicate Outlook Items. And to do this you have to manually sort the duplicate items and delete them one by one.
If you things that the manually deletion of Outlook duplicate items is very long-winded, then you can try the SysTools Outlook Duplicate Remover toolkit. This tool is the best-automated tool to remove duplicate items from Outlook.

Now, once your Outlook PST file is reduced its size, then you can now use the Inbox repair tool to repair the corrupted Outlook PST file.
How to Repair Large PST File Manually
Once the Outlook.pst file is reduced, then you can use the Outlook Inbox Repair Tool to repair Outlook corruption. This tool helps you to repair minor level corruption from Outlook PST. So, you can try this tool to repair the corruption of Outlook PST. To use this Outlook inbuilt repair tool just follow the below steps:
Note- Before using the ScanPST you have to find the default location of Scanpst.exe according to versions
For Outlook 2019: C:\Program Files (x86)\Microsoft Office\root\Office16
For Outlook 2016: C:\Program Files (x86)\Microsoft Office\root\Office16
For Outlook 2013: C:\Program Files (x86)\Microsoft Office\Office15
For Outlook 2010: C:\Program Files (x86)\Microsoft Office\Office14
For Outlook 2007: C:\Program Files (x86)\Microsoft Office\Office12
Once you find the ScanPST.exe double click on the exe to execute the program
After that browse your PST file
Click on the Start button the begin the process
If the scan finds the error then click on the Repair button to start the repair process
Best Way to Repair Large PST File
If your PST file is oversized and also facing corruption then you can try Outlook PST Repair Software. This easily repairs corruption from Outlook PST also this tool also helps you to recover permanently deleted items from the PST file.

The tool gives you the option to export the recovered PST file in a different file format such as PST, EML, MSG, PDF, HTML, or Office 365. The tool is also capable to repair encrypted files too.
Conclusion
If your PST is large and due to that you are not able to use Scanpst.exe to repair the corruption of Outlook PST. So, here in this blog, we have discussed the best approach to reduce the size of oversize the PST file. In addition, we have also discussed automated tools to repair large PST files by thinking about the size.