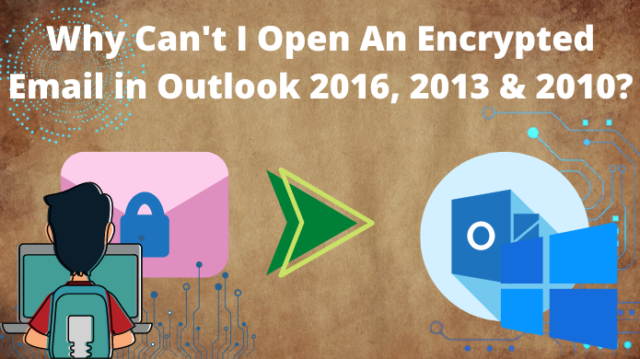 A lot of users in early 2022, complained that they can't view the content of encrypted emails as these aren't opening. Thus, they are asking why can't I open an encrypted email in Outlook. This issue is a serious one as encrypted emails are more secure & contain more valuable information. Being unable to access such emails can be serious. Multiple reasons are possible for this & users must get to the root of the problem.
This article is going to explain how users can easily access their encrypted emails in Outlook versions 2007, 2010, 2013, 2016, and 2019. We're going to explain the causes along with the possible solution to provide users with a 360° view of the scenario. 
Let's start from the beginning when users started getting this issue. We hope to solve all your queries regarding this topic by the end of this article.
How Do I Open An Encrypted Email in Outlook Smartly? The Origin
As we stated this issue started troubling users in early 2022. However, before this also users were struggling with the issue but the reason was something else.  In January 2022, users started reporting this issue to Microsoft on their portals as you can see in the below image.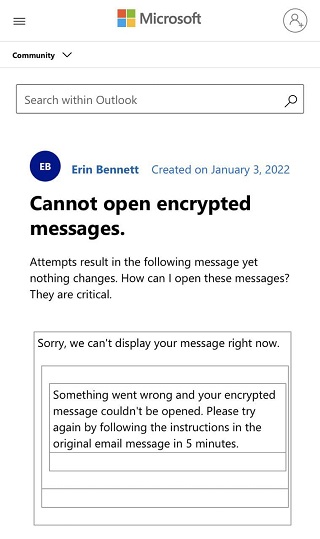 Microsft then came with a positive reply explaining that they are aware of the problem & are currently working on it. However, they haven't announced any deadline for the solution, leaving doubts in users' minds.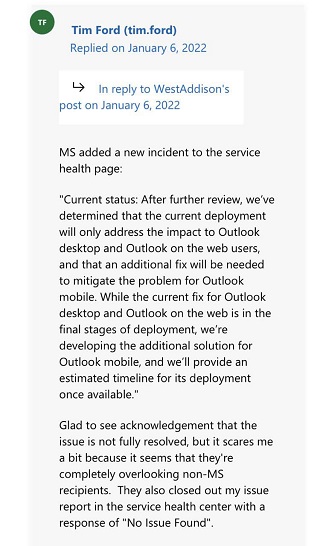 In the hope of solving the problem, a lot of It experts did their research & provided various solutions along with the causes of the problem. Evidently, a few of these solutions are actually effective & work pretty well. We're going to look at the basic operations to fix this issue along with its causes.
Why Can't I Open an Encrypted Email in Outlook? What are the Causes
Users can face this issue primarily for 4 reasons that are mentioned below. Understanding these four reasons can easily help users to access & open their encrypted emails again.
Interruption from Antivirus
Antivirus settings often interrupt Outlook rules & policies & cause this error. It's not Microsoft's fault as this can be the reason for unfavorable antivirus settings. If users only need to open the files & view them but not edit them, they can opt for the Best Free Outlook PST Viewer tool. It can still show you the file despite antivirus interruption.
Outlook Plug-ins or Add-ons Issue
Outlook Plug-ins & add-ons also cause this error. In several scenarios, your virus scanner misunderstood the addon or plug-in as a threat. Hence, this stops users from opening their encrypted Outlook emails. The solution for the same is discussed further in this blog, so stay tuned.
PST File Corruption
File corruption is a major issue why users can't open their encrypted Outlook emails. Below are several reasons why the file gets corrupt.
Oversize PST


Oversize Outlook files are more fragile & prone to corruption. While transferring loaded data files, it may get corrupt very easily.

Sudden Shutdown


Power failure or sudden shutdown of the Outlook application & windows system may also result in the corruption of data files.

Virus Attacks


Cyber attacks like viruses, malware, ransomware, etc are the major causes of the corruption of an Outlook email data file.
How Do I Open An Encrypted Email in Outlook Automatically?
File corruption is the most critical reason for not being able to open encrypted emails in Outlook 2016, 2010, 2007, & even 2022. We are going to check out the automated method to repair the corruption present in these files.
Users need to download the Outlook PST Repair Software which can easily solve the corruption issues present in the file. Follow the below-mentioned steps once you download the utility for free & then after repair, users can open their encrypted emails with ease.
This is the most ideal method for users in order to counter the hassles present in the manual method. Whereas,  if you still want to know the manual method, we'll discuss it in the upcoming sections. However, to counter "why can't I open an encrypted email in Outlook 2016" query, automated-tool leaves no scope for other methods. In a nutshell, users can learn how to repair large PST files of Outlook smartly.
Step-1. Click on the Add File button & then attach the PST files with corrupted data.
Step-2. Select Quick or Advance Scan for scanning the corruption of files.  
Step-3. Select the Files you desire to repair for opening them.
Step-4. Browse Destination location & Set the PST file format.
Step-5. Click on the Export button to get the final results.
Highly Advanced Features of the Automated Features
The automated approach to counter user queries is quite practical & offers plenty of features that are mentioned below.
Repairs highly corrupted data files & exports them to PST, PDF, MSG, EML, HTML & Office 365 file format.

Provide users with advanced features like date & category filters to selectively repair their encrypted emails.

Feature to repair password protected & SMIME/OpenPGP encrypted emails without tampering with the data.

Allowing users to fix bulk files easily in without any limitation on the file size like the ScanPST method.

This utility is compatible with Outlook 2007, 2010, 2013, 2016 & 2019 without any doubt in a seamless manner.

It supports Windows 11(64 Bit) & below operating systems & maintains the utmost security for your data files.
Why Can't I Open An Encrypted Email in Outlook Manually?
When we discuss the manual solution, we have a total of three solutions. Disabling Outlook plugins is one of the reasons followed by reinstalling antivirus & executing the ScanPST method. Although it's quite difficult to counter the query how do I open an encrypted email in Outlook using these manual methods.
Executing manual methods doesn't guarantee to counter how do I open an encrypted email in Outlook issue of users. However, if users can not opt for the automated methods, these can be selected last options.
ScanPST Method
After locating the ScanPST utility in your system, follow the below steps carefully to remove the corurption from encrypted email files.
Click Browse

to add damaged encrypted PST files

Hit

the

Start

button to scan the corruption of files.

Click

the

Repair

button to fix the damaged files.

Click

on the

Ok

button to finish the task.
Disabling Outlook Plug-ins
To disable Outlook plugins that cause interference for users to open their encrypted emails, follow the below steps.
Click

the

File

from the

Menu

option.

Now,

Click

on the

Options

tab here.

In Outlook Options,

Click

on

Add-Ins

option.

Next,

Disable Unwanted Add-ins

.
Disable System Antivirus
Just like the above procedure, users need to disable the antivirus too. Moreover, uninstalling the antivirus & then again installing it on the system also helps a lot.
Cut To The Chase
Finally, we are now aware of all the crucial steps that we need to execute in order to open & access our encrypted Outlook emails. This How-to guide explained the in-depth solutions that even a new user can also execute. Evidently, we can not end this article as users are no longer troubled with why can't I open an encrypted email in Outlook 2016 query. Automated solution is highly recommended as it eliminates all hassles that users need to go through in the manual ones.