Learn to Export Thunderbird Email to PST File in Few Simple Steps
Mozilla Thunderbird is an email application that also works as a personal information manager. It is one of the widely used e-mail clients available in the market and the e-mail items are stored in the form of MBOX file format.
On the other hand, Microsoft Outlook is a popular email client that stores all kinds of mailbox items in PST file format. Since Outlook supports PST, when a user migrates from Thunderbird to Outlook, he/she export Thunderbird emails to PST file.
User-Query Related To Export Thunderbird Email To PST File:
"I am using Thunderbird email for a quite long time and my account is holding many important data in it. Although Thunderbird provides some useful features, I am still interested in converting Thunderbird folder data to PST files. Actually, I want to use Business Contact Manager to improve the conversation with my clients. So, can someone help me to move Thunderbird Mailboxes?"
2 Easy Methods To Export Thunderbird Email To PST File
Users can try the manual method or the automated solution to perform such conversion.
Manual Solution
You need Mozilla Thunderbird, a new Yahoo account, and Microsoft Outlook for the execution of this process. Once you have the new Yahoo account, do the following:
Step 1: Configuration in Thunderbird
Run Mozilla Thunderbird.
Go to the File menu
Then, select New
Next, click on Existing mail account
After that, a new window will open.
Enter the yahoo credentials and your name here.
Click Continue.
Once done, select IMAP and click Done.
The account is now added in Thunderbird.
Step 2: Copy Data
Copy all your Thunderbird data that you want to export to PST into the added Yahoo account.
Step 3: Configuration in Outlook
Run Outlook.
Now add the same Yahoo account here.
To do this, go to the File menu.
Select Account Settings, then again Account Settings, then new.
Enter Yahoo details and click Connect.
Once the account is added, you will be able to view all the Thunderbird emails.
Listed below are some of the drawbacks associated with manual method to export Thunderbird email to PST:
Manual method always involves a risk of data loss
Using manual method, data becomes more vulnerable to corruption
It takes time to sync data
For fully reliable conversion process, it is always preferred to use an easy and highly professional third party tool which can easily and efficiently convert Thunderbird Email to PST file.
Trouble-Free Professional Solution
SysTools MBOX to Outlook Converter is the best method to export Thunderbird email to PST file. It is designed by keeping in mind that any type of user can use it easily without any prior technical knowledge.
It is provided with a user manual that helps the users to convert MBOX to PST in simple steps. This tool also has some Unique features which make it the best alternative to other available automated solutions.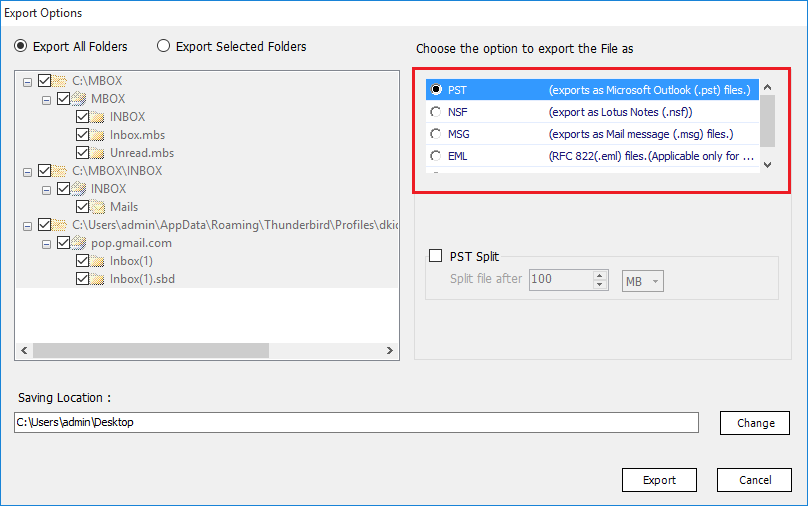 Features
This tool has improved client detection to directly identify and add Thunderbird database.
It ensures complete data integrity during conversion.
It offers options to save file in PST/MSG/EML/NSF file formats
This tool prevents data loss while performing the export process
It supports importing Thunderbird SBD files to Outlook.
This tool also generates a report in HTML
Conclusion
There are multiple methods available to export Thunderbird email to PST files. Both the methods have their own merits and demerits. But still, a professional tool is more preferred over the manual method among the users. It provides a user-friendly interface and allows the user to efficiently convert Thunderbird emails to PST by maintaining the email data integrity.