Extract Text From PDF Using The PDF Data Extractor Tool
If you are looking for a professional tool to extract text from PDF files, look no more.
SysTools PDF Extractor tool can extract text, images, and attachments from multiple PDF files.
Don't worry about the formatting issues! The tool gives you the option to retain the text format as the source file. This software is smart because it provides you options for selective text extraction. It means you can take out text from a particular page or range of pages. You can even extract text from odd-numbered or even-numbered PDF pages.
So, if you are someone who works intensively with PDF and needs to get text from PDF file from time to time then this tool will be a smart option.
Before you get ahead with this kind of software, you can try the free edition of the extractor. Remember it is a free version, so it will extract text from the first page only having the company's watermark.
For Windows 10, 8.1, 8, 7 & Windows Server 2008, 2012 R2, 2016
For Mac OS X 10.15 (Catalina), 10.14 (Mojave),  10.13 (High Sierra), 10.12 (Sierra), 10.11 (El Capitan), 10.10 (Yosemite), 10.9 (Mavericks), 10.8 (Mountain Lion)
Mac Users, Kindly install Java JDK 8  & JRE in your system. Click Here to download
Know How to Extract Text From PDF Using The Software (Mac & Windows)
A step-by-step guide to get text from PDF file. Read it carefully because I have explained each feature that you get with the tool.
1. Download Extractor tool on Mac or Windows system. The tool will appear to you as given below. Click on "Add File(s)" and "Add Folder(s)" to browse for PDF files from which you want to extract text.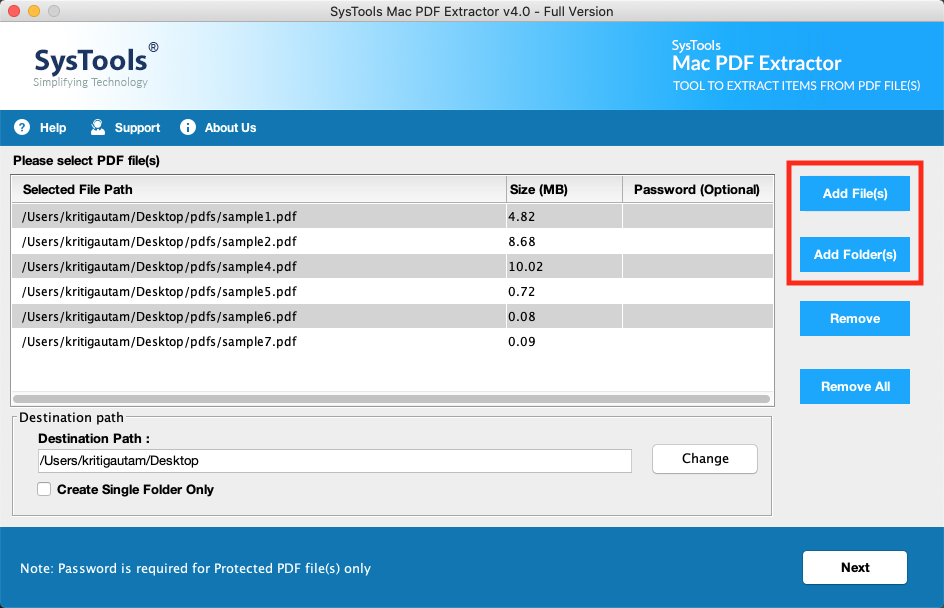 Note: No need to worry about restricted PDF (PDF files having modification or extraction restrictions). The tool can easily process them without needing permission. For user-protected PDFs (file having document open password) users need to provide the password.
2. To save the resultant text files on the desired location in your system click on the "Change" button. By default you will get the resultant folder of extracted data on the desktop. Then, click on Next.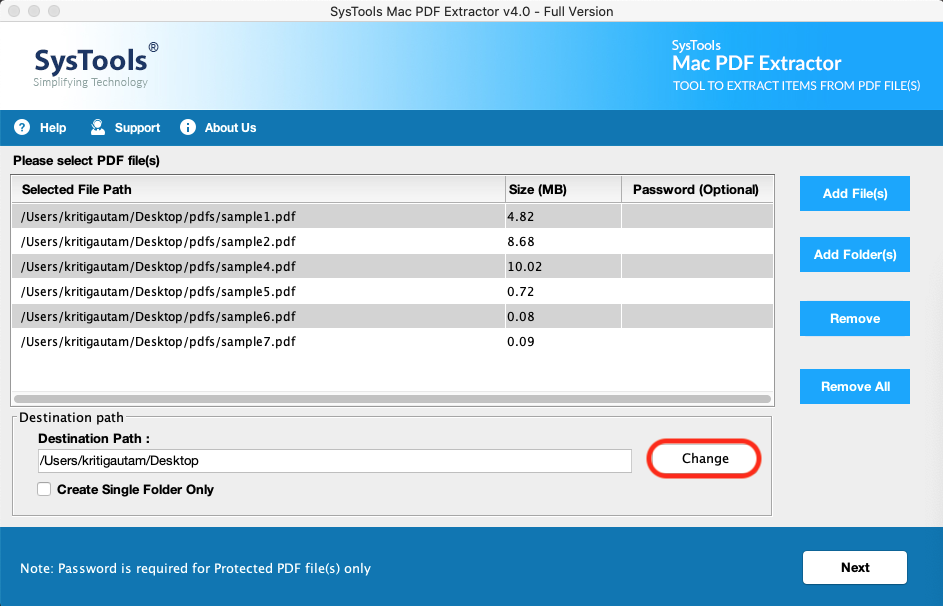 Note: Tick the "Create Single Folder Only" option to get all the extracted items in a single folder. By default, you will get an individual folder for each resultant file.
3. Select the Item type as "Text" to extract or get text from PDF file.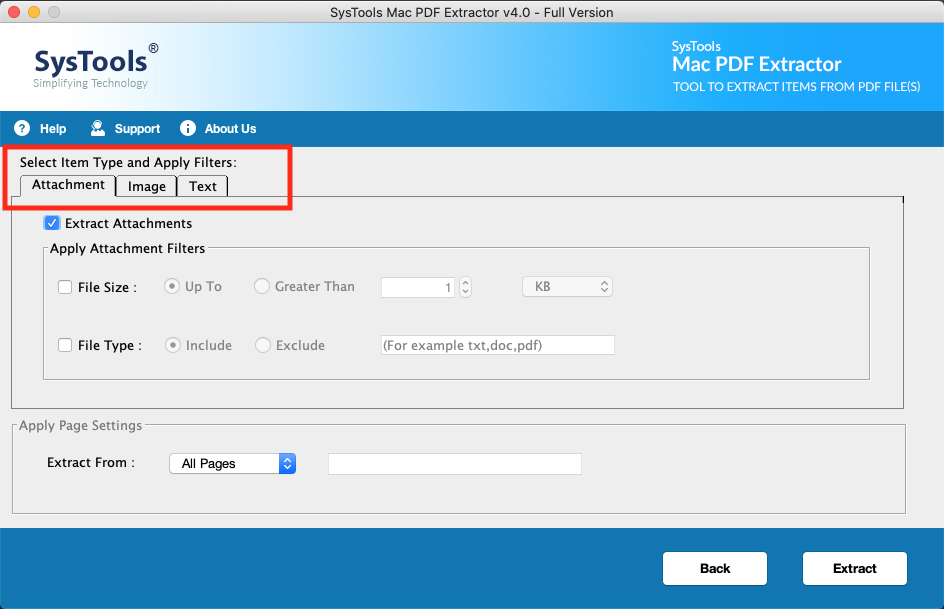 4. Here you can make settings before text extraction according to your needs.
Maintain Formatting: To retain the format style the same as the source file PDF file.
Maintain Page Number: By choosing this option you can maintain the page number in the resultant files.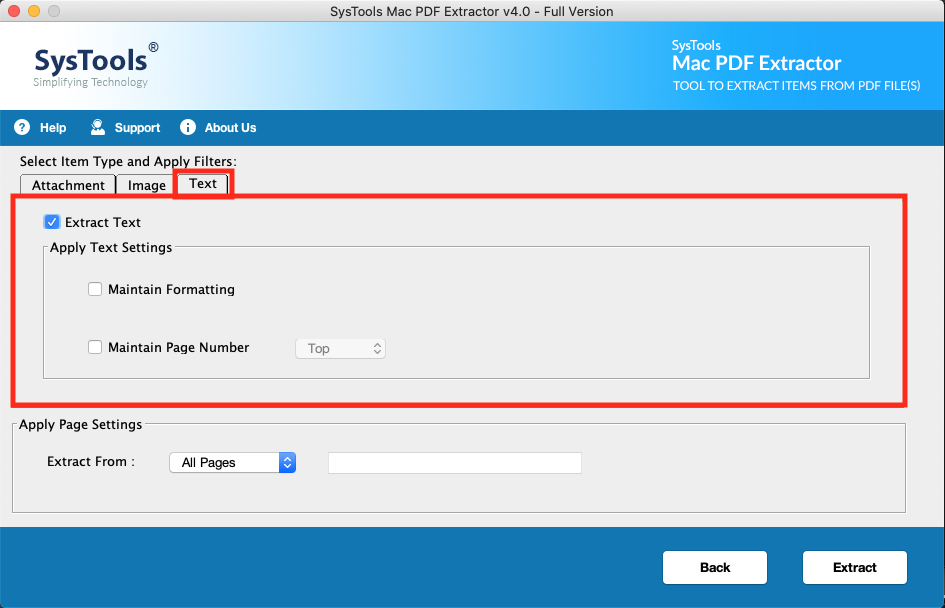 5. Earlier in the blog I talked about selective text extraction. Here you can select all the pages from which you want the text to be taken out. There are five options namely: All Pages, Odd Pages, Even Pages, Page Range, Page Number. After making the desired settings click on the "Extract" button to extract text from PDF.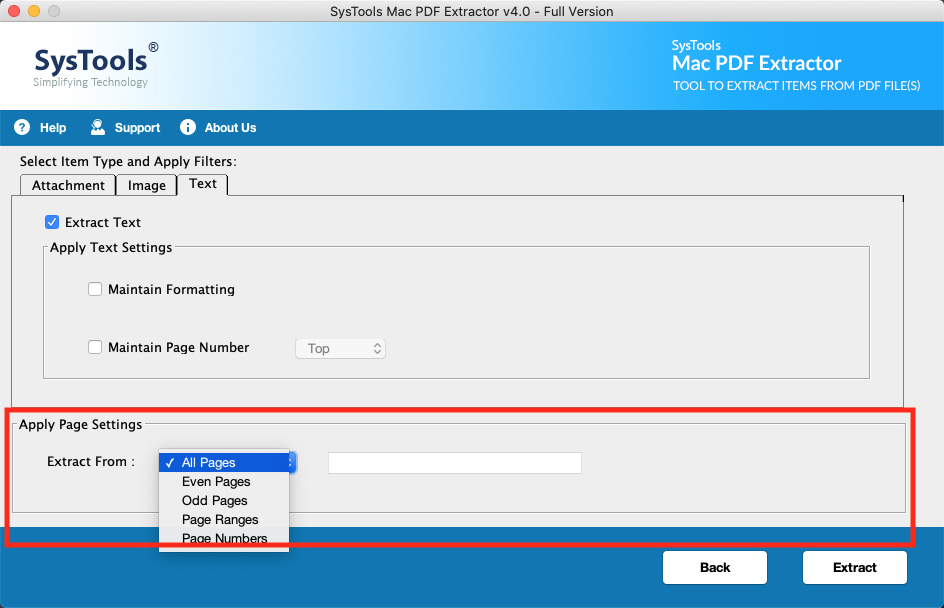 6. A success message will get popped up. Click on "View Report".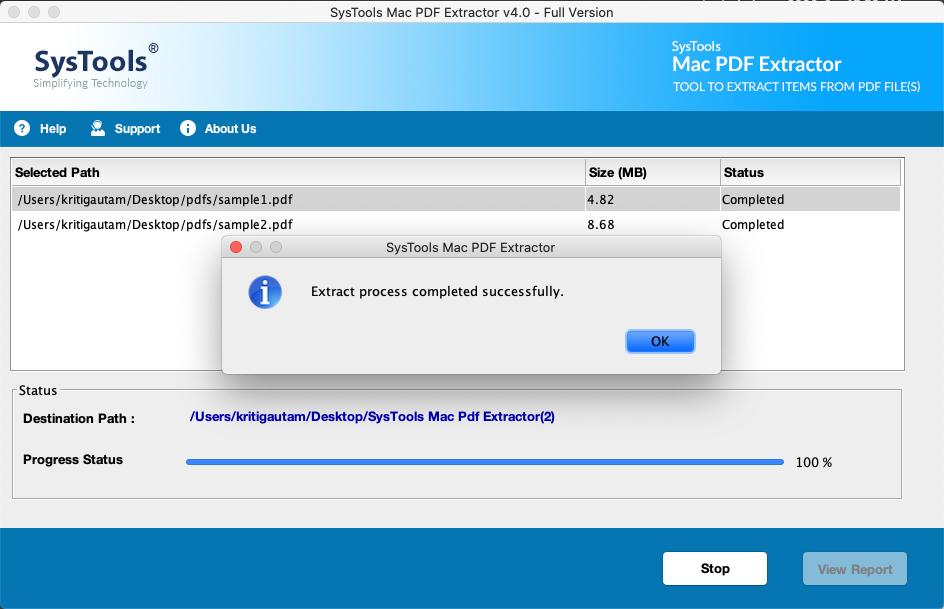 Take a Look At The Tool's Features
Here I have mentioned a small description of what this PDF Management software is capable of. But, this is an advanced tool that can get text from PDF file or extract from different elements from PDF files.
Extract Text from PDF Files
The extraction tool allows you to extract text from multiple PDF documents at once. You will get your resultant file in .txt file format. It can act as your own offline tool to convert PDF to text.
Apply Text Settings to Get Only The Desired Texts
Two options are given under text settings i.e. Maintain Formatting & Maintain Page Number. You can maintain the format style of the extracted PDF text and the page number on the top or bottom position of the extracted file(s).
Extract Attachments from PDF Files
Extract all or selected attachments from PDF documents. Various attachments filter opinions are given in the extractor like file size and file formats. You can choose accordingly.
Extract Inline Images from PDF
This tool can extract embedded images from the PDF file. The quality of the images will be the same as the original. You can extract CAD drawings or 3D models from the PDF.
Also Read: KNOW WHY PDF FILE CANNOT BE PRINTED ON MAC OR WINDOWS OS
Conclusion
This extractor is designed for professionals who don't want to compromise on the quality of the extracted files. The tool is fast and robust that is why it is perfect for processing multiple documents. You can extract text from PDF along with attachments and images.