How to Recover Data from Dynamic Disk – Get Solution Here
Users who prefer the flexibility to manage storage space and data. They prefer a dynamic disk over a basic disk. But what if you found that data is shift deleted from the drive. This leads us to find the answer that how to recover data from dynamic disk.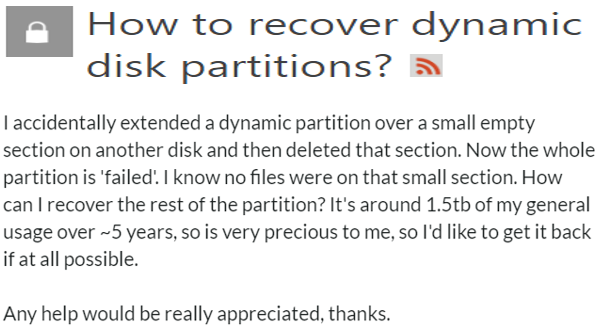 Let's get to know what dynamic disks are and why they are used instead of basic disks.
About Dynamic Disk
When a disk is initialized for dynamic storage then it is called a dynamic disk. Users use it because of its flexibility because it does not refer to a partition table to keep track of system partitions. Users can extend the partition by creating a dynamic disk. It manages data using volumes.
Difference Between Dynamic Disk and Basic Disk
It is necessary to understand the difference between dynamic disk and the basic disk is so the user can choose the storage medium accordingly.
The basic disk is the traditional storage model that uses normal partitions table to manage all partitions on the disk. Whereas the dynamic disk uses a hidden LDM database to manage all the volumes of the drive.
It holds four primary partitions i.e. three primary and one extended partition.
On the other hand, a dynamic disk contains
Simple volume
Spanned volumes
Stripped volumes,
Mirrored volume &
RAID – 5 volume.
Basic disk support multi-boot configuration (i.e. switching between operating systems).
But dynamic disks do not support this configuration.
In a basic disk once the size of the partition is created it cannot be changed or extended.
On the contrary, a dynamic disk allows an extension of the size of the partition according to users.
Reasons for Data Loss in Dynamic Disk
Here are the prime causes that delete data from dynamic disk. Understand the cause and execute the solution.
Unsupportive Windows Operating System – Windows XP, 7, and 8 home editions do not support dynamic disk configuration. The unsupported OS will be shown as invalid on the screen.
Shifting to Another Computer – Dynamic information is stored in the registry. When you add it to another device, the disk will show as invalid. Because that system does not hold the information of the registry.
Converting Dynamic Disk to Basic – It is impossible unless the user deleted every volume of disk partitions. This creates data loss situations. Fortunately, data loss can be reversed if the user opts authentic data recovery solution.
Tip – Partition Data Recovery is the solution that can work perfectly to recover data in the above-mentioned scenario. To learn more move to the next section.
Recover Data from Dynamic Hard Disk without Data Loss
Warning – It is strongly advised to avoid any data modification activity on the hard drive. As it will only lead you to data overwriting and nothing else.
When a user is stuck in a situation where he lost his data from a dynamic disk then only an assured data recovery solution can recover files from it. Follow below mentioned four steps to recover files instantly with maximum chances of data recovery.
Step 1. Download and Launch the Partition Data Recovery and attach the dynamic disk.

Step 2. Click on Refresh View and select the drive. Then click on the Scan option to initiate the recovery process.
Step 3. Let the recovery process complete and select the files you want to restore. Then click on the Save button.
Step 4. Provide the destination location to save the recovered deleted files from external hard drive on Windows 10.
Avoid choosing the dynamic disk to store the recovered data. This is how to recover data from invalid dynamic disks without data loss.
Demo Version – Users who are serious about recovering files from laptop hard drive that won't boot can download the free demo version. Run the tool and preview lost files. If files are visible they definitely try the licensed version and recover files in their healthy format.
Conclusion
We hope now you know that how to recover data from dynamic disk. No matter if you choose disk management or command prompt to convert dynamic disk to basic disk, data loss is certain to happen. Partition Data Recovery solution is capable to reverse the data loss by recovering the files in their original format.