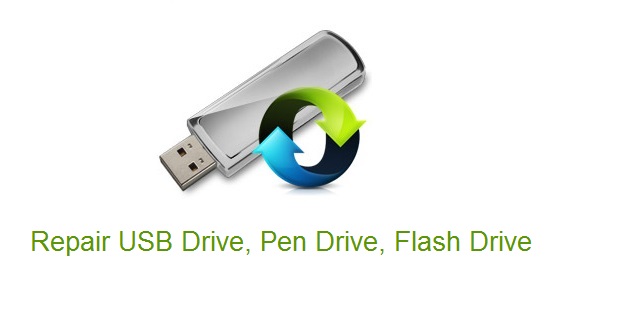 A Flash drive is basically used to store every kind of data in memory, as in hard drive. It is also known as the pen drive or USB drive. It is the most convenient method to store and transfer data, as it is easy to carry anywhere a user wants.
A USB drive is nowadays, has become so popular that it is available in various brands also, one such popular brand is SanDisk Pen drive. As users keep lot of data inside pen drive, therefore, if it becomes inaccessible or stops working, a user might not able to open it to access the data.

However, the reason behind this can be corruption in pen drive or it becomes unresponsive. Whenever such type of situation occurs, the user starts to panic and is unable to recover corrupted video files from pen drive. But, there is no need to worry about how to retrieve data from corrupted pen drive. Here, in this article, a complete guide of how to recover SanDisk USB Drive, Flash Drive, Pen Drive without any loss of data is discussed.
"I am using SanDisk USB drive of total 16 GB in size, which contains all my thesis work in it. When I recently used it on one of my friends laptop, from then onwards it is not opening. I think it got corrupted due to some virus. Now, I am in big trouble. My whole thesis work is on that USB drive. Hence, I have to recover SanDisk pen drive data anyhow. Please suggest me some solution, its really important for me."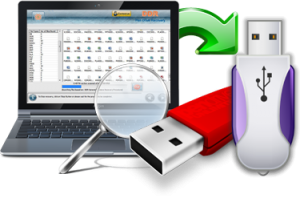 Note: If below mentioned failed then try Pen drive deleted data recovery software to recover lost data. This is easy to use anyone can use this utility without any hassle. This tool has ability to recover all types of data like photos, video, documents, excel file, HTML, PST etc. Users can download and install this utility on Windows PC.
How to Repair Damaged Pen Drive Without Any Data Loss
Now, to recover lost files from corrupted USB drives, the first choice of any user is by using CMD. Without any extra requirement, it recovers SanDisk flash drive without any data loss. Therefore, to repair corrupted pen drive using CMD follow the steps mentioned below:
Recover SanDisk USB Drive Backup All Data From Corrupted USB Drive Using CMD
First of all, connect your USB drive to your computer or laptop
Now, click on Start button and in search field type CMD and press Enter key and cmd.exe will get opened
Now, in the CMD Window, type chkdsk/X/f G: or chkdsk USB drive letter: /f
If both commands do not work, then type: attrib -h -r -s /s /d f:\*.* where: f: is the drive letter of USB drive in your computer

After executing the above commands, wait for a few seconds and then try again to open & Recover SanDisk USB Drive, Flash Drive, Pen Drive

There will be a folder with no name, open the folder and it will display all the data that you have stored in your pen drive
Now, take backup of your data and format USB drive to recover SanDisk flash drive.
Recover Unreadable Sandisk USB Drive Data Using CMD
Now, after taking a backup of all your important data stored in USB drive, there is a need to recover files deleted by viruses. Therefore, to repair corrupted flash drive using CMD, execute the commands mentioned below to forcefully format corrupted pen drive/ USB drive.
Plugin corrupted pen drive into your computer and click on Start button to recover SanDisk pen drive.
In search bar, type CMD and press Enter to open cmd.exe window
Now, type diskpart and hit Enter.
After that, type list disk and hit Enter. It will display all the storage items that are connected to your computer.
Now, carefully type select disk <number> and press Enter. Here, type disk number carefully.
After that, type clean and hit Enter key.
Now, type create partition primary and press Enter Key.
Now, type select partition 1 same as disk number and hit Enter button.
Finally, type format fs= fat32 and press Enter key. Now, the format will finish in just a few minutes. In case of large files, type ntfs instead of fat32 and don't close CMD window.
Repair Damaged SanDisk Flash Drive without CMD
If the CMD commands does not work, then a user can follow the method mentioned below to repair corrupt flash drive with no data loss. To do the same follow the steps:
1. In order to to recover SanDisk flash drive, insert flash drive into your computer and go to My Computer
2. Select Removable Disk option and right-click on it and select Properties
3. Now, select the Tool tab and click on Rebuild button to recover SanDisk USB drive
4. When the scan process gets completed, close the Scan Window
5. After that, right-click on Flash drive icon and click on Eject button and remove the flash drive from the computer.
After performing all these steps to repair SanDisk flash drive, the pen drive is back to normal and one can use it again to store data.
Safety Guards for USB Drive
Here, in this segment, how to protect & recover SanDisk pen drive from getting affected is discussed. A user can follow these points to prevent any virus attack in pen drive.
Convert the USB drive to the NTFS file system to utilize the security permission provided by NTFS
Use your pen drive only with the computer containing anti-virus in them.
One can set the USB port of the computer to read-only.
Disable pen drive's autorun.inf to prevent malware infection & recover SanDisk pen drive
Conclusion
USB drive is the widely used data transferable device. However, if it becomes unresponsive or inaccessible, then there is a need to recover pen drive data using CMD. Therefore, in this, we have discussed how to restore deleted WhatsApp chat from pen drive step by step and How to Recover SanDisk Flash Drive, USB Drive, Pen Drive . One can choose any of the methods to recover SanDisk flash drive according to their preference.